Physical release information
A physical version for your Amiga is available. You can buy this game with some goodies on APC & TCP. Thank you for your support!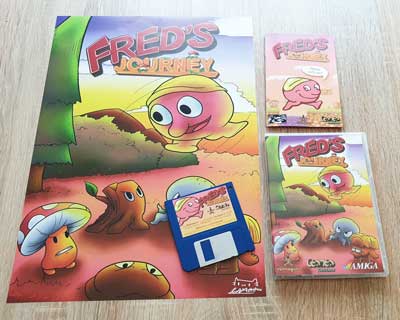 Overview
Released: Revision 2020; Last Update: 4. July 2020
Storyline
Fred - a legendary C64 persona (Fred's Back), fondly remembers his past journeys. Deciding to relive his adventures he heads out again!
Fred's Journey Gameplay Video
Fred's Journey Features
Runs on any OCS/ECS Amiga, with 1MB RAM from Kickstart 1.2 onwards
Written in 100% 68000 assembler
50fps, soft parallax scrolling, more than 50 colours
Handdrawn pixels
20 levels from Fred's Back 1 & 2 in Amiga style
Oldschool style pixeled sprites and tiles
7 chiptunes
Jingles and sound effects
Hidden trainer
Top 7 highscore
Fred's Journey Screenshots
Fred's Journey Core Team
Code: Chrisanth Lederer (Ceel)
Graphics: Hannes Sommer (Mc Sprite)
Graphics: Jonathan Dodd (Dulcahn)
Music: Dietmar Gösseringer
Support: Shahzad Sahaib (Kojote)
Support: Denny Müller (Mulle)
Support: Frank Wille (phx)
Fred's Journey Downloads
Platform
Version
DL
Amiga OCS Floppy Disk
(works on ECS/AGA too)
v2.0